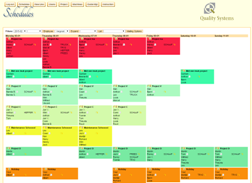 ---
Why PlanNed?
Simple, Elegant, Organized and Painless Scheduling. PlanNed takes a fresh approach in solving the problem of organizing a group's schedule. Since PlanNed is hosted on web servers, all you require is a modern web browser. It's that simple.
Target Audience
Spending a lot of money on IT-systems that doesnot fit with the size of the company is wide spread. Navision, SAP, Oracle offer pricy solutions for complex companies but also for simple companies. It's hard to resist the logic of those software solutions for small companies. Think large, be prepared for the future, is the theme. We think that the added value of a solution must be seen now and not in the (near) future. Within a few weeks the organisation should benefit from software solutions, otherwise the supplier of the system will take over. We think that it is very hard to prove the complexity of software solutions for smaller organisations. That is why we aim at small companies with simple solutions that see the advantages of a new system.

Quality Systems BV aims at next kinds of companies:
doing projects or activities involved by 4 or 5 men who are more or less interchangeable;

projects or activities have a project leader to whom the involved men report the progress of the project or activity;

special equipment must be used to do the project or activity, eg trucks, draglines, agrimotors, tractors, drilling machines

the project or activity can be done by the project team without special insructions; they know how to do the job.

the project is complex and can not planned per minute or hour,

the project team is working on the project for a longer time, say whole day or part of the day.

it is not wise to plan or schedule the activities of the project itself instead of that the whole project is scheduled.

the projects are also done during weekends.
Examples
gardener;

builder, contractor;

restaurant;

church;

consultants, commercial agent (on the road);

event managers, festival managers;

theaters;

general and technical support services;

garages;

courses, education centres;

software maintenance;

IT projects;

call centres.
So, PlanNed is ideal for small businesses alike. Varying from retail chains, hospitals and restaurant rotas to charities, family schedules, carpools and more.
When you already use an automated resource and schedulesystem we advice you to leave the PlanNed site and spend your time elsewhere on the internet. We do not add value to your system.


When you are using good old excel spreadsheets to schedule your employees and just email around those schedules than this site might be interesting for you. Ofcourse the spreadsheets are cheap, your employees know how it works and they are familiar with it. Your employees know what they should do the next week and that is ofcourse of great value.


But when...
your schedule changes during the week or

when one of your favorite employees get ill or

new information should be communicated or

a job takes too long and disturbs your schedule or

an emergency situation arises and one of your employees must attend an other project to fullfill the need
then you should interrupt. The new schedule should by send by email or you should use your cell phone to communicate with your employees. That can be tricky. With PlanNed you can grow to an online system and take a step in online communicating.

PlanNed is a low-budget scheduling system with a few basic functions for organisations who do not have a online system and Google Docs is too far at this moment.
PlanNed
can:
register different kind of work, like: projects, garage work, outside work, work in cafe´s and restaurants, school work, work for consultants.

allocate employees per day of the week to one or more projects (that is just a new line in the schedule similiar with a new line in your spreadsheet).
each day address an allocated employee with additional information like:
Time of departure to the place of the project:

Way of transportation:

Carpool information:

Melden bij aankomst bij:

Take with you:

Material:

Equipment, machines:

Specialties:
and a lot more information to fullfill the job. The field is a completely free text field and capable of handling all kind of information.
Give it a try...
Ofcourse we could go on with beautiful sales talk and promise you heaven on earth when you use our system. We are not good at that. We leave that sales talk to parties who are much better with that. When you want to test PlanNed to see it suits your needs, you can try it for free as long as you whish. Take a look and fill in the password and the userid. Or use the Demo button on the top of this page.
a regular user
Emailaddress = admin.admin@admin.com

Password = Welcome01
the admin user
Emailaddress = admin.admin@info.nl

Password = Welcome01


There is a user guide which you can read but in most cases trying around to see what the system is doing is better in our opinion.

Don´t worry about the damage when you make the system unusable by deleting all kind of data and inserting you own data. Each day the whole database is cleaned up and restored. It is possible to see the data other users have made to test the system.

The emailsystem is in this version 'off'. If you insert real emailadressess in the system, real emails are not send to these emailaddresses.
Proposed Procedure
Though the system can be used in a flexible way, we think the best procedure to work with it is:
insert your projects, users, machines in the system;

schedule each project for the next week on say friday morning and assign users and machines to the scheduled project;

send a mail with the current project plan on friday afternoon to the involved employees, so that each employee knows what to do next monday;

update the scheduled projects for the current week on friday morning with the realised activities. In general each week the scheduled projects are changed during the week, so an updated schedule is needed for the next step.....

send a mail with the Work Hours Registration Sheet based on the updated final project plan of this week on friday afternoon so that the involved employees can assign their work hours to this updated final project plan on the attached Work Hours Registration Sheet.

the employees fill in the Work Hours Registration Sheet on friday afternoon or in the weekend and send it back to the project leader.

the project leader finalizes the Work Hours Registration Sheet on monday morning and delivers it to the project administration to do the accounting and invoicing.
When you already have a Work Hours Registration system, some of the above steps should be skipped.
What to expect...
Do not expect:
nice collours and pictures;

moving items and icons;

surveys (there is only one survey);

all kind of statistical stuff as, working hours, throughputs;

there are no fields for departments and the organisation structure;

capacity surveys per employee. We think you trust your employees and that the communication to the employees is short.
PlanNed is a smart spreadsheet sending emails when changes occur.
And.....?
When you are interested in the system, you should send an email to our office, including
your name;

your company name;

your address and city;

a picture of your company.
We make a new system in a few days, you get an email and you can start.
What are the costs?
The system is free when you use less than 10 projects per week.

Each month 1 euro when you use more then 10 projects a week.
And the first three months are free...!
That will you give enough time to test the system and use it the way you want. When you want to use more than 200 lines, we think you should look somewhere else. Your infomation needs are much larger then PlanNed can offer you. But offcourse you can always try it.

The prices mentioned above are for all users that are involved in the system.
Features
Below a list of all features:
Admin administration privileges for:

adding users or employees;

adding projects;

assign projects to project leaders, the so called Boss in the demo;

adding color codes to project leaders;

adding machines;

adding schedule lines;

sending emails to project involved employees when admin makes changes to the schedules;

assigning users or employees to a project;

assigning machines to a project;

assigning a date to a project;

roll through features to copy a scheduled project to the next day;

mailing Work Hour Registration sheets to your employees.
SAAS - Software as a Service
SAAS is a service to provide software applications via the internet whereby users are not obliged to invest in software or hardware. They only pay for the usage of the software and the hardware. When a user wants to quit, simply stop paying for the service.

The SaaS model gives next advantages:
no investment costs;

no need to understand maintenance and the technical infrastructure;

always the usage of the latest current version;

backup facilities are not needed ;

the security is maintained by the SaaS supplier;

expensive IT-employees are not needed.
The sales of software is nowadays based on the so called License Model. Microsoft for example sells their Word-proccessor this way. A huge software package with a lot of features that are only used for 5% in most cases.

A switch to paying by usage ratio requires a different sales strategy. PlanNed is based on payment per month.
Support
When your company has special information needs we could support with a solution. If new features arise from those special needs, the support is free. Next new features are developped:
downloads of scheduled projects;

Work Hour Registration in PlanNed;

capacity calculations;

maintenance schedules of equipment and machines.


Quality Systems BV, january 2019


User online 1; total 22.492